We offer Medicare, Private Health Fund, National Disability Insurance Scheme (NDIS) and Department of Veteran Affairs (DVA) rebates which can go towards part of or even the full cost of your session.
Start Here 
STEP ONE: Complimentary Assessment (15 mins consult) – this includes:
Start your Brain Training Program here. Discuss your needs with a Qualified Health Practitioner. Learn more about Neurofeedback Brain Training & other modalities which we may incorporate for you along your Brain Training journey to help you achieve your goals. Conducted in-house or by phone, limited to 15 minutes and there is no charge. 
We discuss your payment options unique to you for your Brain Training Program in this free consult which include accessing the National Disability Insurance Scheme (NDIS), GP Management Plans, Mental Health Treatment Plans (MHTPs) formerly known as Mental Health Care Plans (MHCPs), DVA Management Plans, Medicare, Private Health Fund, or you can simply pay privately.
PART TWO: Book in for a Standard Appointment (60 mins – fee chargeable) – this includes:
Work with your Health Practitioner to establish your starting point based on cognitive and emotional well-being assessments. Includes 60 minute appointment with 33 minutes Neurofeedback Brain Training and 27 minutes talk time with your Qualified Health Practitioner who is also Certified in Neurofeedback. Progress Retest after 10 sessions to measure to assess change and development achieved.
Doctor / GP, Psychiatrist and External Specialist Referrals
At the Brain Training Australia Head Office in Perth we welcome GP referrals for clients to attend our Qualified Health Practitioners who deliver our services for any health and mental health related issues such as sleep related issues, anxiety and chronic fatigue syndrome wishing to access our blended modality approach. GPs may refer clients to us on GP Management Plans, Mental Health Treatment Plans (MHTPs) formerly known as Mental Health Care Plans (MHCPs), DVA Management Plans and referrals are also accepted via the National Disability Insurance Scheme (NDIS).  
For all GP Referrals – please complete a contact form on any page of our website so that we can provide you with the referral details for your GP to appear on your Management Plans.
Do I need a GP Referral?
No. While we do receive many referrals from Doctors/GPs, Psychiatrists, and Specialist Healthcare Professionals, is it not essential to provide a referral to access services at Brain Training Australia as we are also open to the general public who can just pay as they go, without accessing rebates. We are not a Diagnosis and Clinical Treatment Program – its Brain Training using a blended modality of natural and holistic approaches to help our clients achieve their mental health goals.  Many clients attend their Doctor or existing Psychologist in supplementary to the work we do.
How To Claim A Rebate on Your Session: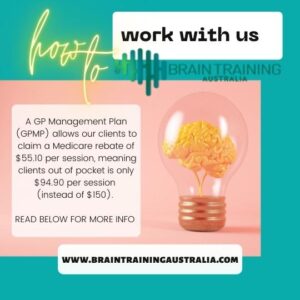 A GP Management Plan (GPMP) allows our clients to claim a Medicare Rebate of $55.10 per session, meaning clients out of pocket is only $94.90 per session (instead of paying $150). GPs are only permitted to prescribe a maximum of five Allied Health consults per calendar year (total value $275.50 back from Medicare). The eligibility and specific mix of these services are determined by the General Practitioner, so if this must be specified in the referral they issue to us. 
A GP Mental Health Care Plan allows clients to claim a Medicare Rebate of $77.80 per session, meaning clients out of pocket is only $72.20 per session (instead of paying $150).  This is part of the Department of Health Better Access Initiative which gives Medicare rebates to help eligible clients access mental health professionals and care regardless of where they live.  Support is available from eligible general practitioners (GPS) and other medical practitioners, psychologists, social workers and occupational therapists only. Eligible clients can receive up to 10 individual and up to 10 group allied mental health services over a 12 month period from the date of issue of the referral. In response to the COVID-19 pandemic clients who are eligible can access up to 20 sessions before 30 June 2022. It is important to know however the GPs only allow access to support in 6 session blocks at which stage a report is sent from your Health Practitioner at Brain Training Australia to your GP. The GP then decides if further sessions may be accessed.  It is unknown at this stage if the 20 session per year allowance will be extended past 30 June 2022 as this is a Department of Health decision. 
Please note that at Brain Training Australia we are unable to bulk bill the cost of session, due to the high cost of the technology and highly knowledgeable Qualified Health Practitioners involved. However the above rebates may make access more affordable for our clients. 
DVA Health Cards (Gold) are also accepted as payment upon a GP Management Plan Referral. This referral will cover the entire cost of your session with us and DVA clients will have no out of pocket with Brain Training Australia. 
Private Clients can claim also a rebate through Private Health Insurance for Occupational Therapy if it is included in their policy, and a referral is not required to access this rebate.  Your rebate amount and your maximum health refund rebate is decided by your Health Fund and your level of cover and we recommend you check this out with your Fund provider in advance of attendance to avoid disappointment. 
We also have many clients have been able to get the cost of the training partially or fully reimbursed by their employer as part of Employee Assistance program (EAP) or Staff Health & Wellbeing.  Please check with your employer if they allow access to these services and if so then just complete a contact form on any page of our website to send us a message.
How Do I Book In?
FOR PERTH ONLY CLIENTS – If you wish to access a rebate on your face to face session, you will need to bring your GP Referral with you to your first appointment. Once you have your referral, you can easily BOOK ONLINE (by clicking this link)
Your first appointment will include a 15 minute Complimentary Assessment and a 1 hour Brain Training Appointment – so you get started straight away. Your Health Practitioner will discuss your needs and put together your Brain Training Plan at that appointment.
Not Based In Perth? Access a Home Rental System Instead
We offer face to face Neurofeedback Brain Training only at our Head Office in Wembley, Perth & service all other locations across Australia through Neurofeedback Home Rental systems. As mentioned above, sessions with a Practitioner a face to face session is $150 per session, before rebates. At home systems are the same technology, just DIY without a Practitioner & you can use in the comfort of your own home at your own pace. We have the rentals set up so that you can maximise your Brain Training on a shorter amount of time on a tighter budget. We have a limited number of Neurofeedback Brain Training rental systems available which cost the following:
$300 per week with a minimum rental of 4 weeks. This gives you access to UNLIMITED SESSIONS during your rental period. 
Home rental systems are accessible to every client however the only rebates for home rental systems at Brain Training Australia are available for our National Disability Insurance Scheme (NDIS) clients, Department of Veteran Affairs (DVA) and private payment clients.
While these are DIY systems and self operated, you will receive video guidance, manuals and the support of your Qualified Health Practitioner on how to easily use the technology at home. 
How Do I Book A Home Rental System?
Home rental systems are in high demand and there is often a wait list in place to meet demand.  As Australia's largest Neurofeedback Brain Training provider we have technology and providers all across Australia who support our valued clients. When we receive your request we do our very best to match you with a local provider but more importantly we link you in with our trusted providers who have the next system available. We encourage you to get in contact as soon as possible if you wish to access a home rental system or if it is your only option for support. Simply fill out a contact form on any page on our website so we can get a home rental system to you sooner rather than later. 
We help you to be comfortable so make sure to contact us so we can understand your specific circumstances.  We then arrange delivery and assist you with the initial set up until you find your feet.  We touch base on a weekly basis to give you support throughout the rental period.
Let Us Help You Get Your Brain Training Journey Started Today.  
Fill out a contact form below and we will be in touch.